Why did we create Omnitas Time Reporting Solution?
As a monday.com partner and user for a long time, we noticed that monday.com's time tracking features don't meet our needs. As a result, we worked on and developed a solution that would improve monday.com's time reporting functionalities.
In this post, we will explore the differences between time reporting and time tracking, the importance of time reporting, and its benefits.
The real importance of time reporting
Time holds the highest value for consulting agencies, and it's their most valuable resource. Time reporting can be useful for organizations and their teams to save time and improve productivity. Below, we will dive deeper into what we mean by time tracking vs time reporting.
Time tracking vs time reporting
You might have noticed that we emphasize time reporting. And despite how similar these terms sound, they represent two different systems.
Time Tracking
Time tracking is more like a Punch clock (traditional time clock) where the employee monitoring systems record time down to minutes. The employees punch in once they start working and punch out when they are done with every task. It can be useful for a business that wants to learn more about itself.
But when it comes to management, we consider it to be bad employee policy. As micromanagement often leads to low productivity, heightened stress, and reduced creativity. Most likely because the employees feel like they are being watched and lack privacy.
This system can be useful for certain industries and workplaces, such as law firms, where the work is being billed by the minute.
Time reporting
In time reporting, the time is reported at the end of the workday or workweek. The focus here is not to count time down to the very last minute but more of an overview. It is not about monitoring, but rather about profitability and gathering data to improve the business processes.
Time reporting is the common principle used in most European companies.
Everyone can benefit from the Omnitas Time Reporting Solution including the service sector, real estate brokers, consulting firms, and marketing agencies as they are mostly project-driven.
Time reporting is based on a company's trust in its employees. By trusting their employees, in turn they will feel heard and empowered and as a result, they will be able to deliver at higher productivity.
Monday.com's native functionalities
Monday.com's users on the Pro and Enterprise plan have access to time tracking. By adding a time tracking column teams are able to track time that will measure work on an item, group, or board. They can see the time details of each item as well as display the time down to the second.
You can also export your account's data to Excel. Multiple users can not track time against the same item in the time tracking column.
While these are all wonderful options, they fall under the time tracking section. Since there are no good native solutions available for time reporting, we developed the Omnitas Time Reporting Solution app to complement monday.com's already existing time tracking feature.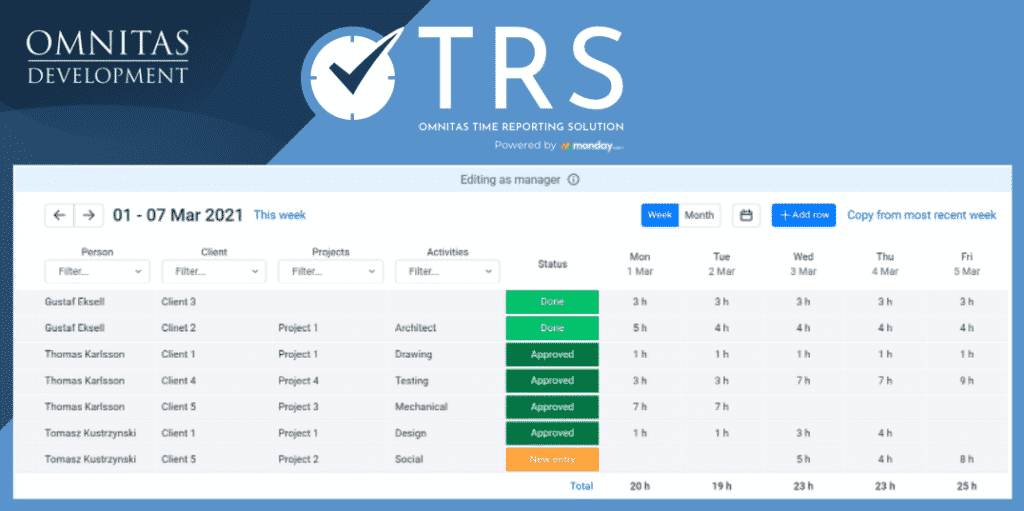 Omnitas Time Reporting Solution app features:
Omnitas Time Reporting Solution provides a board view that makes it easy to select relevant objects and quickly enter time reports in a weekly or monthly timesheet. Managers or time admins can view everyone's submissions and approve entries by changing a status which in turn can initiate any custom automated workflow thanks to monday.com's strong native automation.
The Omnitas Time Reporting Solution app consists of:
Time Reporting view where you can enter or view time data.
Budgeting view where you can set values for a weekly or monthly budget.
Set of board templates that provide a zero setup way to start working with Omnitas Time Reporting Solution. You can find an example board with Time Reporting and Budgeting views as well as a Dashboard and several other views showing the power and simplicity of using monday.com as a time reporting tool. You can build an entirely custom solution based on these templates or start from scratch with the help of the app.
Omnitas Time Reporting Solution, the best option for time reporting
Time reporting helps us understand what we spend our most valuable resource (time) on, by identifying productivity bottlenecks and gaining insight into how long certain tasks take to complete.
With Omnitas Time Reporting Solution you will be able to have access to and use monday.com's native functionalities (e.g. dashboards, automations, etc.).
Unlike the majority of time tracking apps, our app is not an external program. In order to use 3rd party apps, you must integrate them with monday.com.
You can see project and time reporting data in the same dashboard without building costly integrations or managing multiple siloed systems to get a holistic view of your operations.
If your organization works with several external consultants, then you don't have to pay for their license fees, they can use monday.com as a guest user type.
Note that the guest user type does not include your employees!
Omnitas Time Reporting Solution doesn't charge you for the number of guests you have.
One of a kind
We are unique among the apps on monday.com's marketplace, as Omnitas Time Reporting Solution doesn't require your data to leave the platform. You can set up your reports the same way as you do with other dashboards in monday.com because the data is already accessible on the same platform.
The Omnitas Time Reporting Solution will improve your time reporting experience by providing boards, templates, and widgets that are pre-configured for you.
Cost-effective
Forget about having to integrate expensive 3rd party time reporting services
with your monday.com account.
Omnitas Time Reporting Solution is accessible inside monday.com without costly integration.
Easy to install
Installation of our app is as easy as it is to use it. You can install Omnitas Time Reporting Solution app by visiting monday.com's Apps Marketplace. All you need to do is to click the install button, and you are ready to go.
Note: You need to be a monday.com account administrator to install apps.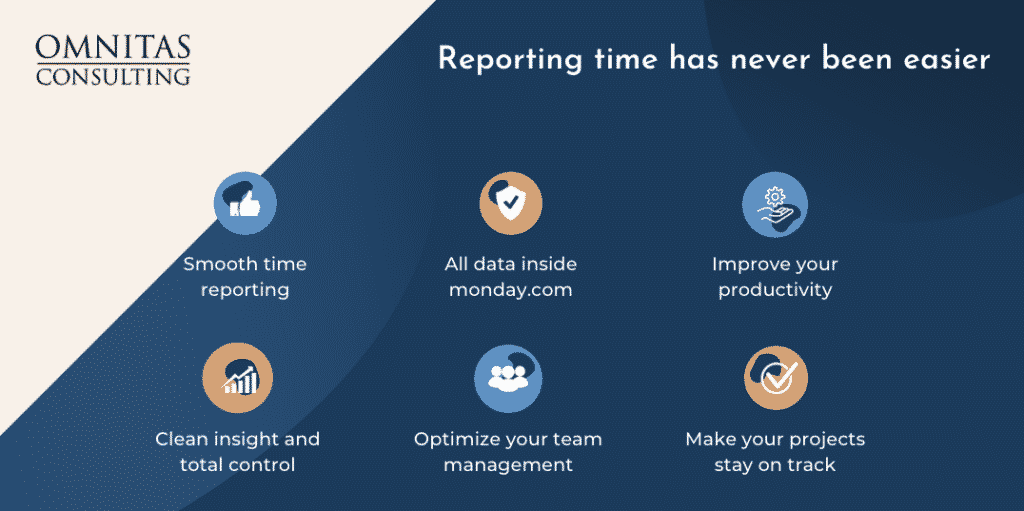 Who is Omnitas Time Reporting Solution for?
Basically, any project-driven organization can make use of our Omnitas Time Reporting Solution app to gain further insight into projects and activities.
Unlike using and integrating a 3rd party app, with Omnitas Time Reporting Solution you don't have to send data outside monday.com. You can use monday.com's built-in automations and dashboard system.
Benefits of time reporting
Streamline reporting and invoicing process
Creates a more efficient billing and payroll process
Ability to bill your clients
Keeping projects profitable
Data for a more accurate future project estimation
Surfaces hidden project costs
Improving your pricing
Manage a happier team
Improve speed and performance for ultimate efficiency
Make Better Financial Decisions
Creating a record of your work
Saves time and increases productivity
Keep all information in one place
Create Better Workflows
Easier to understand employee availability, so the managers know when to delegate tasks
Identify and prioritize the work that is more important
Team members can also use time tracking to assess their own productivity and ensure they're meeting their goals for the project.
All things considered, our app is a worthy addition to anyone with a monday.com account who works with projects and wants to improve them and their team's efficiency. We are excited for you to start using our apps and don't hesitate to contact us.
Omnitas on Youtube
Check out our recorded webinar to learn more about the Omnitas Time Reporting Solution for your monday.com account.
Recommended pages