Miro is Optimized for today's hybrid workforce
It's the collaborative whiteboard platform that transforms the way teams get work done. It's the world's most popular visual collaboration platform and can be integrated into monday.com at ease. Miro is a Creation, collaborate, and centralize communication for all your Cross-functional team work in the new era of Hybrid workspace.
Real-time & asynchronous collaboration
Miro provides an engaging, intuitive, in-person collaboration experience with multiple options for real-time or asynchronous teamwork on an online whiteboard. Whether your teams are on site, work remote or a combination, Miros real-time workflow will work for your teams.
With an infinitely zoomable canvas, Miro will enable your work the way you and your team wants to work. Unleash your creativity, plan projects from all angles, and create a centralized hub of information. See the bigger picture and the details. Get everyone in your team in the loop.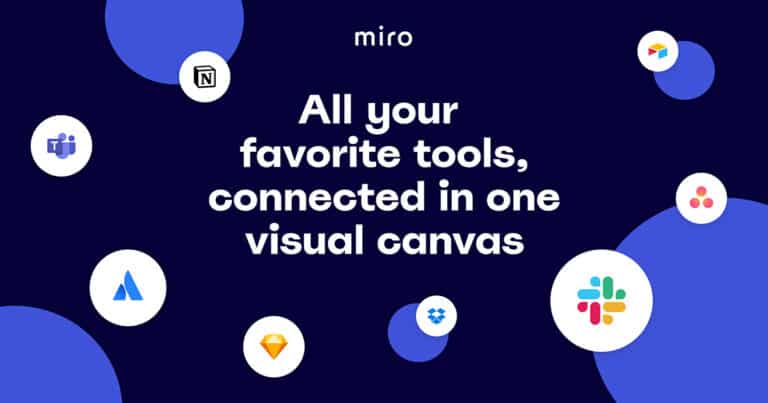 Integrations for your workflow
Miro have a deep integration with today's popular and trusted tools like monday.com, Dropbox, Google Suite, Microsoft, Zoom, and Slack in a seamless workflow. 
A big change in the way we work today
With our new hybrid work, our teams are more dispersed and our workflow gets distributed. Agile practices and design thinking are becoming a big part of companies workflow. It's increasingly challenging for teams to work well together. Let's make it easier with Miro.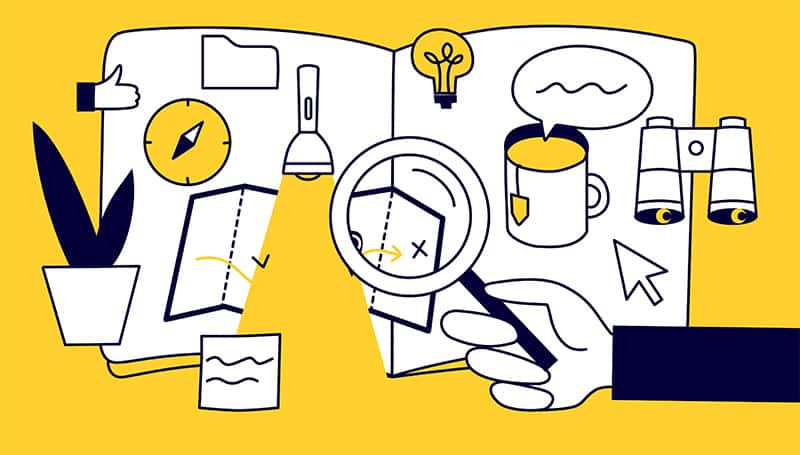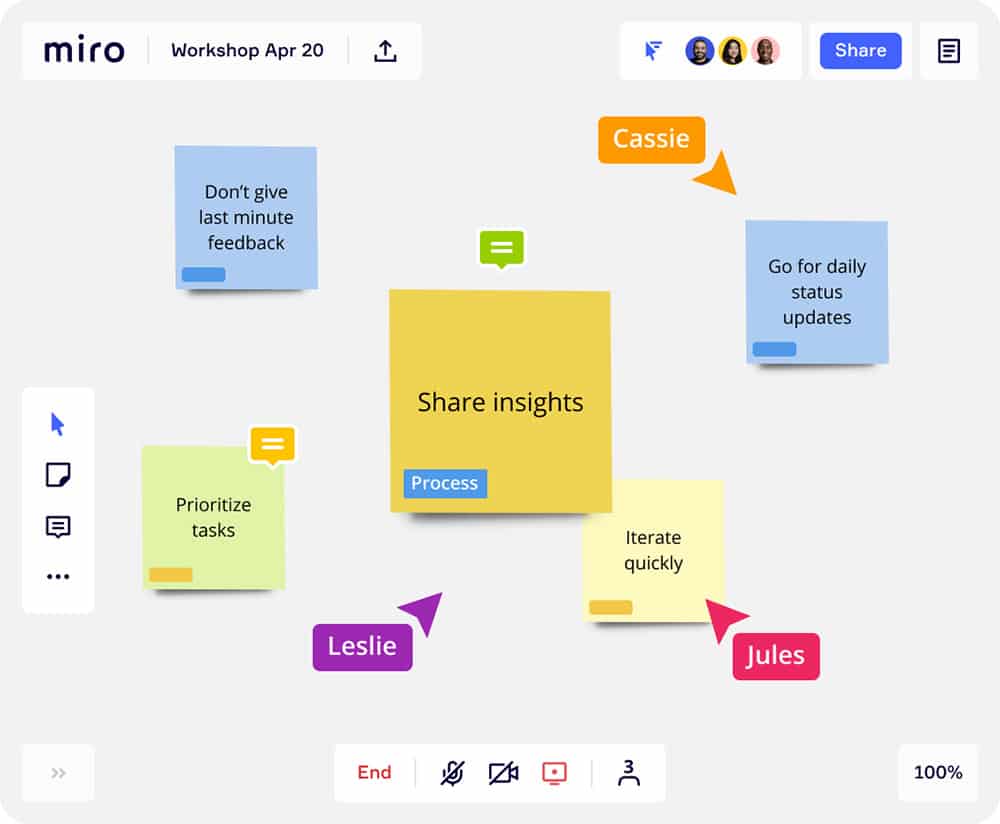 Make collaboration easier
Better engagement with your team on and off site in brainstorming, processes, workshops, and decision-making with digital workspaces that enable asynchronous and synchronous collaboration — just as easily as if everyone were in the same room.
Create & innovate faster with Miro
Empower cross-functional discovery and brainstorming through Miro's infinite canvas, robust set of widgets, and prebuilt templates. Miro presents an entire toolkit for user stories, roadmap or sprint planning.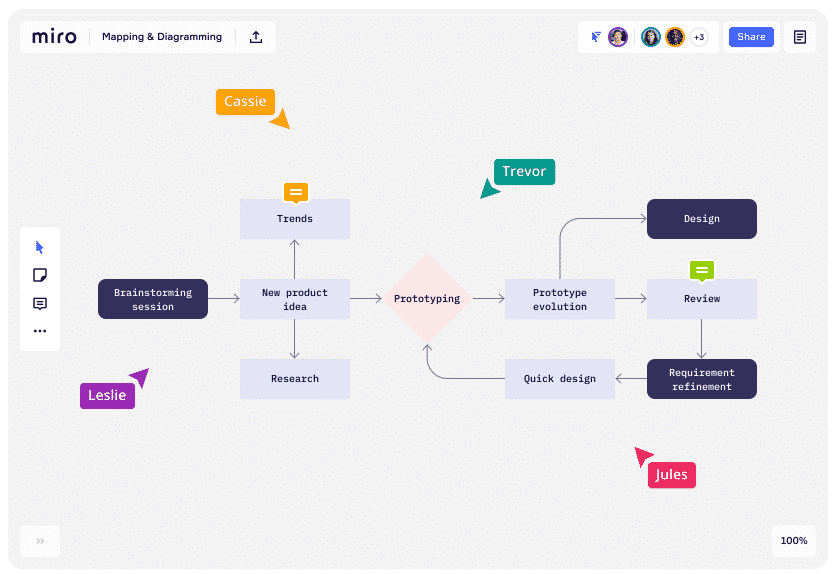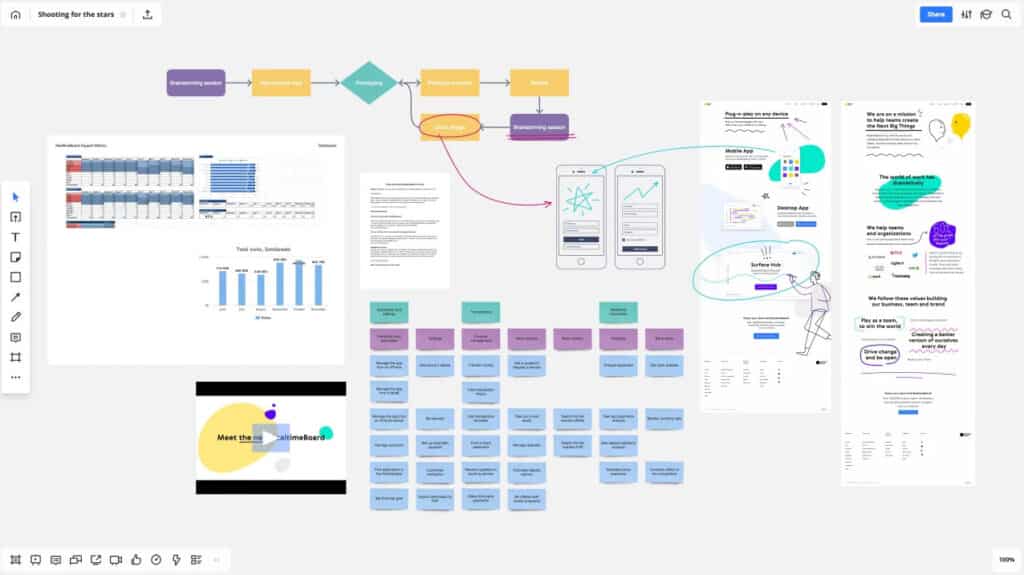 Centralize & standardize your communication
Create a hub for cross-functional work that also works with all your other tools like monday.com. Standardize and scale processes company-wide for all-around digital transformation.
Miro provides a unique opportunity for solution partners to bring a collaborative online whiteboard platform designed for remote and distributed teams to customers. This platform can enable customers to more productively drive meetings, workshops, ideation, diagramming, brainstorming, research and design, agile workflows, strategy and much more.
Works with your workflow, doesn't dictate it for you
Miro has over 70 apps and integrations to plug right into the way your team works. Miro partners with industry-leading companies, so you can add the visual collaboration layer to your existing workflows, tools, and processes. Many of our integrations offer bidirectional syncing and the ability to customize fields, so you can work in Miro without switching to
another tool. You can also embed live, editable Miro boards using iFrames and native integrations (Microsoft Teams, Confluence, Zoom, and more coming soon)
You can rest easy knowing privacy and security has been built into the fabric of the Miro platform, including the option for Enterprise Plan users to add advanced security and compliance controls.
Miro takes its client's security and privacy seriously. Rely on their dedicated approach to security with SSL encryption, SSO, advanced user management, audit logs, domain control, and more.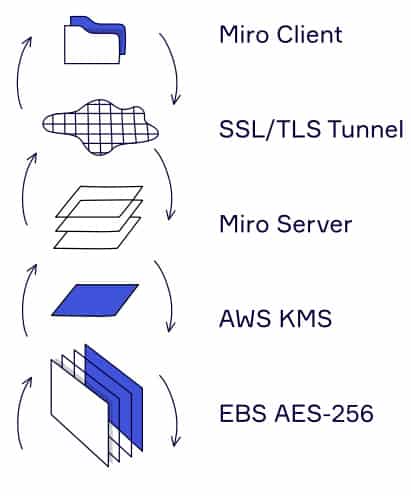 Miro's server infrastructure is hosted on Amazon Web Services. The AWS compliance program is designed to follow international security standards and regulations, while protecting confidentiality and data privacy.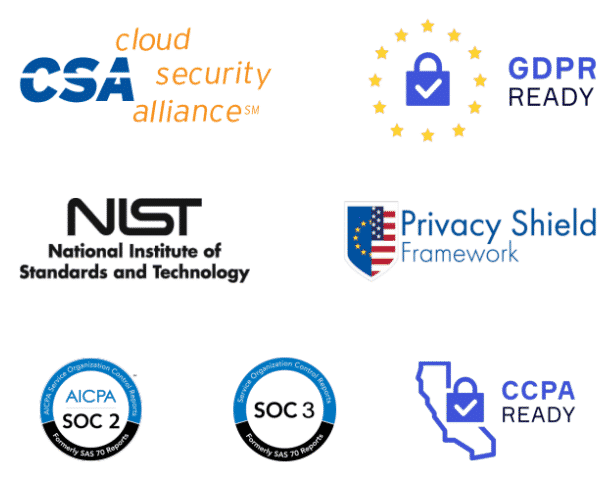 Get the whole company onboard
Miro's infinite whiteboard canvas allows distributed teams to work as if they were in the same room, with a robust suite of collaboration features:
Digital sticky notes with tagging

Multi-player live cursor tracking

Threaded commenting with @mentions

Library of pre-built templates

Core integrations, plus Azure DevOps, CA Rally, Okta, Azure AD

Advanced search across multiple teams & board content (coming soon!)
Miro can be your visual project hub in your monday.com account.
If you want to create a visual project hub, this is the app to use in monday.com. In your own monday.com hub you can add visual assets, and wireframes alongside relevant monday.com tasks, so anyone can visualize the progression of your project from concept to execution.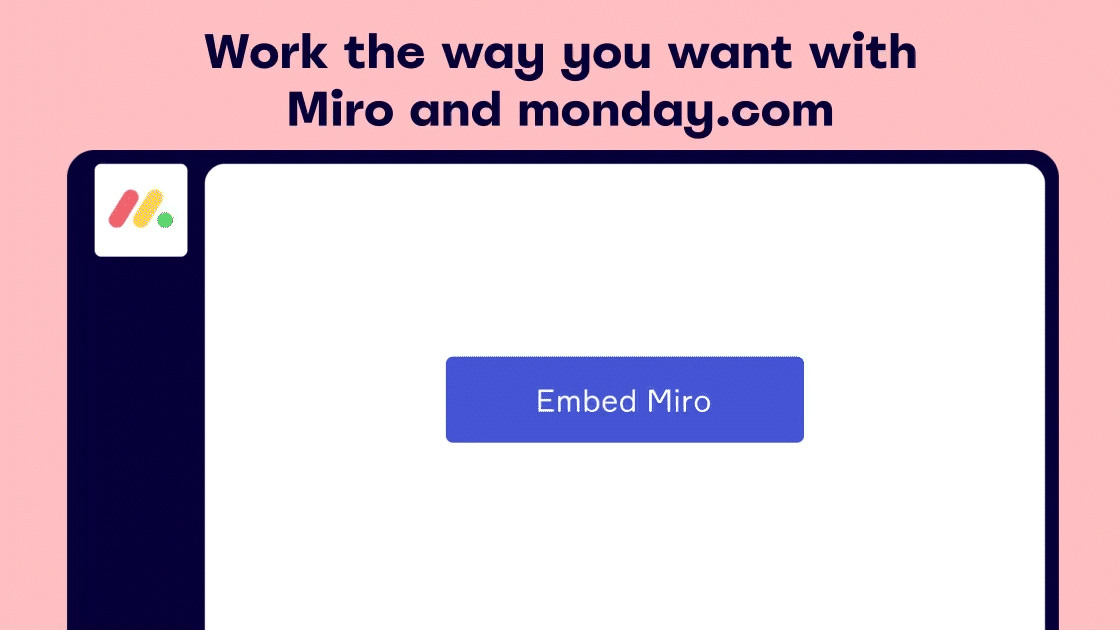 With Miro's Live Embed, you can:
Document the results of whiteboarding exercises, workshops, or remote project kick-offs, to start every project off with a shared understanding.
Run large distributed agile rituals like retrospectives, story sizing, backlog prioritization, story mapping, and capture them in monday.com.
Create a visual project hub to house all brainstorms, visual assets, and wireframes, so project stakeholders can visualize the progression of your project from concept to execution.

Use the online collaborative whiteboard platform to bring teams together, anytime, anywhere.

Board View

Item View

Dashboard Widget