Many of our clients comes to us with the idea of setting up a CRM that's really built to their specifications and not just another iteration of an out-of-the-box solution powered by Pipedrive or Salesforce. They want something that's really made to fit them. Their processes, their workflow and their company culture. They also want something that does not break the bank, neither when it comes to license nor implementation cost.
We tend to help them implement monday.com. It's the system on the market that truly lets us custom fit it to any client and any organization. But it comes with several added benefits which no other systems can deliver. And that is what I'm going to outline in this article.
So much more than a CRM
A CRM is a CRM, right? It helps you sell and keep track of your relationships with clients, contacts and leads. Hopefully it also allows you to track some financial data and enable you to forecast your sales etc.
Sure, that would be true for most CRM systems. But it would also be more or less a full stop there. This is where monday.com truly shines!
monday.com is not a CRM in the usual sense of the word. It's so much more! It is the world's first and only true WorkOS. It can deliver all the normal (and unusual) features of any CRM. But what it also can do for you is bring your whole organization together into one platform.
Normally, each department has its own systems. The marketing department has its systems for creating and planning campaigns and tracking leads. Sales has its CRM, and support and delivery have their systems. But it's seldom you see a company where all these departments operate as a whole and actually truly share data.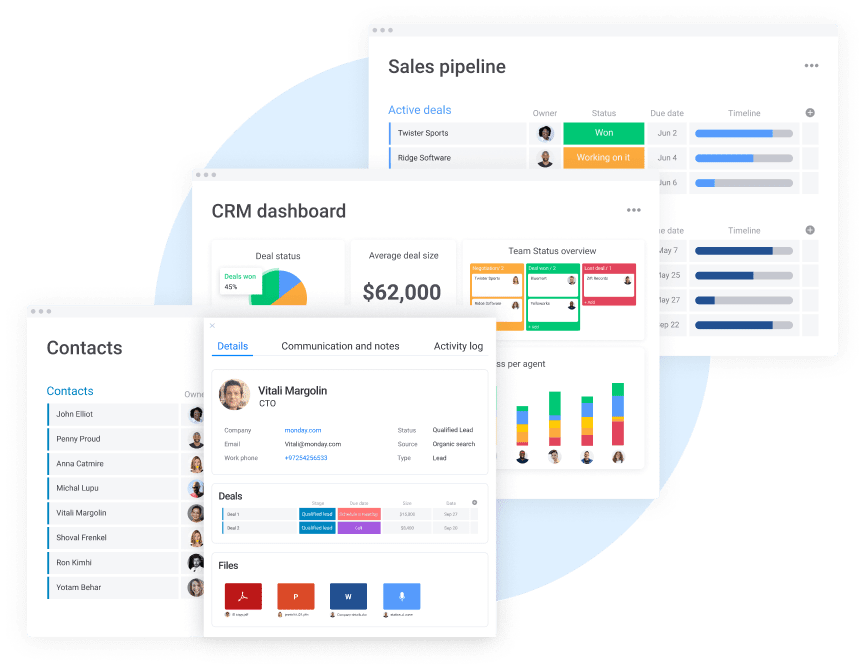 A streamlined workflow
What monday.com does is that it can replace many of these individual systems and lets you bring your company into a single workflow. We can take a start in marketing, generating traction and creating leads. monday.com will let marketing not only track and convert, but will also keep an eye on campaign effectiveness across several channels and platforms. The leads can then automatically, at the right time, be redirected to the sales team. All information will be kept and sent on so that the sales team have a full view of the lead journey so far.
As the sales process moves on in a more classical CRM fashion, data keeps getting added. As the process progresses the delivery team will now notice, just by pure magic, that something is moving and maybe should be taken into account when planning. And at deal closure, the sales opportunity will be handed over to the delivery team. They now know everything that has been going on with the client from the start. No more running around and trying to squeeze sales staff for information. It's all in one system, and all automated.
When everything is delivered to the client, support will now of course have full access to all information with the click of a button, as to be able to assist the client later on.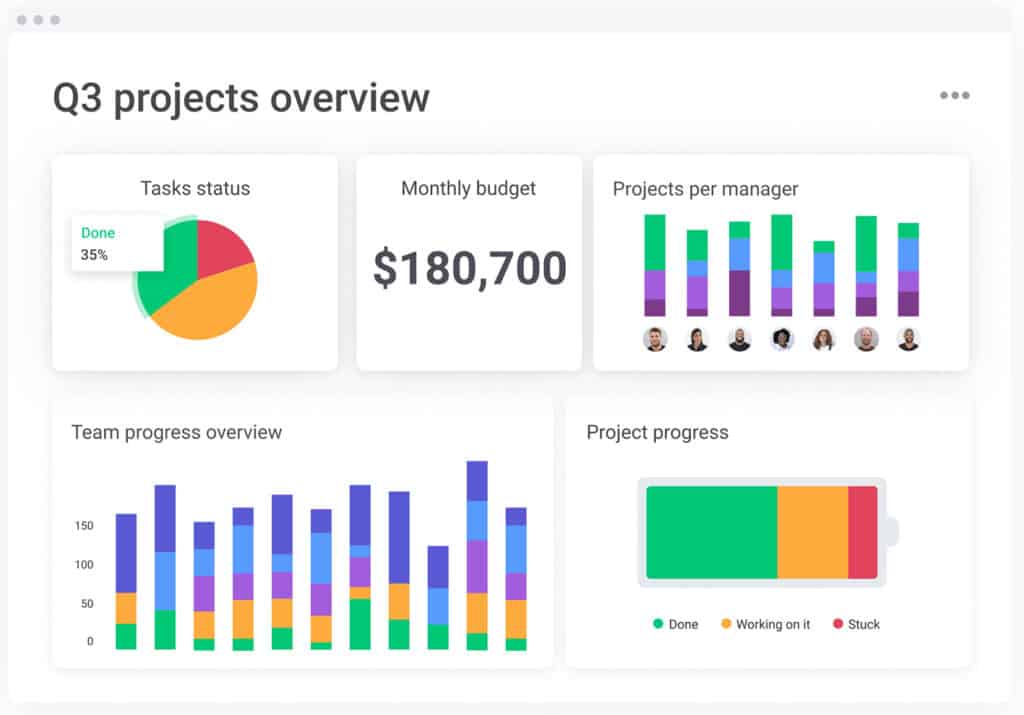 Reporting
Having all information in one system, just like described, also means that reporting is going to be so much better. We can now in realtime track the quality of the marketing qualified leads and how the sales team are able to convert them into SQL's (Sales Qualified Leads) and so on. There will be no more diverging reports and we will be able to approximate the one truth for the whole company.
In monday.com reporting is usually done by the way of dashboards. They operate in real time and ar as such always up to date with the latest information. The dashboard system lets us pull and aggregate data from several sources at once. They are also easily filtered, so if you want to switch from looking at the bigger picture of all your clients to a single one it's as easy as typing the name of the client and the dashboard will update right before your eyes.
monday.com have really gone above and beyond when it comes to dashboards and how easy they are to set up.
Some examples of what our clients have created
The Swedish Internet Foundation (Internetstiftselsen), the owner and stewards of the Swedish top domains .se and .nu, is a shining example of how to really employ the power of monday.com. They have integrated monday.com in all their departments all the way from legal to IT further on to their project office. And as a result, they now have a true 360 degree view of what's going on in their organization.
Westal, a producer of lighting fixtures, started to implement monday.com (with the help of Omnitas) as a CRM. It was actually the only platform on the market that were able to conform to their needs and their business model. With time, monday.com has now also become the system they use for quoting, lighting calculations, marketing and product development. Everything in one space – and to quote their sales manager, "All with only one licence fee".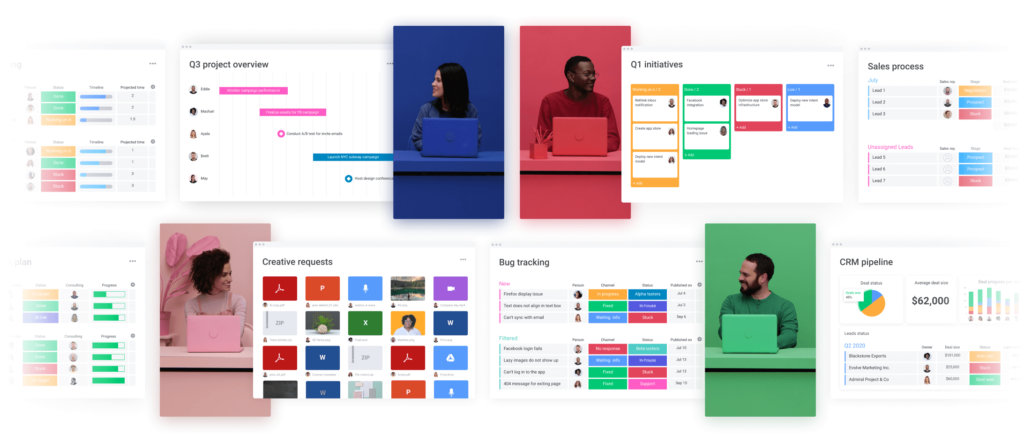 Suitable implementation ideas
Here is a list of a few things that monday.com does extremely well.
Customer Relationship Management
Human Resource Management
Project Office Management
Property Management
Facility Management
Portfolio Management
Content Management
Incident Management
Crisis Management
Change Request Management
Work Request Management
Task Management
Editorial & Marketing Calendar
Video Production Workflow
Post Production
Investment tracking
Construction Schedule & Management
Production Tracking & Management
Agile Project Management
Team Collaboration
Social Media Plan & Publication
Support & Ticket Management
Remote Team Management
Roadmap
Cross-Departemental Work
Applicant Tracking System
Recruitment & Employee Management
Time reporting, Vacation & Holiday
Automatic Quotas
Recommended pages